Open your heart and let the sacred medicine of Ayahuasca guide you on an inner transformation journey.
Are you ready to embark on this once-in-a-lifetime adventure?
Spiritual portal. Revelations, healing, and transcendental cosmic connection.
The Ayahuasca ceremony is a sacred rite practiced by the Shuar culture, inviting you to embark on a journey of self-discovery and profound healing. Through the ancestral medicine of Ayahuasca, you will delve into a spiritual world filled with visions and revelations. Shuar shamans, wise and respected guides, will accompany you in this process, providing support and protection. This transformative experience allows you to explore the deepest corners of your being, releasing emotional blocks and connecting with your purest essence. The Ayahuasca ceremony offers you the opportunity to understand and heal aspects of your life, find clarity and purpose, and experience profound personal growth. If you seek a transcendental experience and wish to embark on a journey of self-discovery and healing, the Ayahuasca ceremony with the Shuar culture is an invitation to enter a spiritual realm and connect with your deepest self.
2 days experience: Ayahuasca Retreat

3 days experience: Ayahuasca Retreat and Amazon Expedition
Group size: 2 - 10
DAY 1
9:00 a.m. We will navigate for 15 minutes along the Napo River to engage in an immersive experience with the jungle. Our hike will last 4 hours to explore the Amazon rainforest through immersive trekking. Embark on a journey of self-discovery and healing through a powerful ayahuasca ceremony. At 2:00 p.m., we will meet our wise guide of the sacred ayahuasca plant. During a magical night, we will immerse ourselves in a sacred ceremony, allowing ayahuasca to guide us on a profound journey to our inner selves.
DAY 2
With a heart full and a renewed mind, we will return with a new perspective, connected to nature and empowered by the ancestral wisdom that has been revealed to us.
Group size: 2-10
DAY 1
07:00 am. Our expedition to the Amazon begins, along with a spiritual healing ceremony in the heart of Yasuni National Park. To get there, we will travel for 2 hours and 30 minutes by road until we reach Shiripuno. Then, we will navigate by canoe for 1 hour and 30 minutes along the majestic Shiripuno River until we reach the Ñoneno community. Our hosts will be the women and elders of the Waorani hunting tribe. Upon arrival, we will set up our campsite and head into the jungle for an intense hike with a young Waorani warrior to learn survival techniques used by this contacted tribe.
DAY 2
5 am. We will wake up to take advantage of the awakening of the jungle and recharge our energy from the rain, the forest, or the sunlight. We will navigate for 2 hours to spot birds, monkeys, wild pigs, etc. At 1 pm, you will have the opportunity to participate in the preparation of ayahuasca with the Uwishin "Wise Man" and learn ancestral wisdom from him until the moment of your personal encounter with the spirit of the plant. The ceremony will be conducted with a member of a Kichua or Shuar community.
DAY 3
4:00 am. Surrounding ourselves with nature facilitates spiritual balance and energy intake. We will have the opportunity to purify our dreams or hallucinations as we immerse ourselves in the waters of the Shiripuno River. 6:00 am. We will get ready for a jungle hike to an animal salt lick with the possibility of encountering large mammals such as Sajino (wild boar), deer, monkeys, parrots, toucans, and other species. We will return to the campsite for breakfast and then depart for Coca at 11:00 am.
Long sleeve shirt
Long pants
Raincoat
Mosquito repellent
Binoculars
Lantern
Camera
Sunscreen
A bit of cash
Water bottle
Sun hat
"Embark on an epic journey to Jatuncocha, Tambococha, or Cocaya in the Amazon: Explore the wonders of the jungle, awaken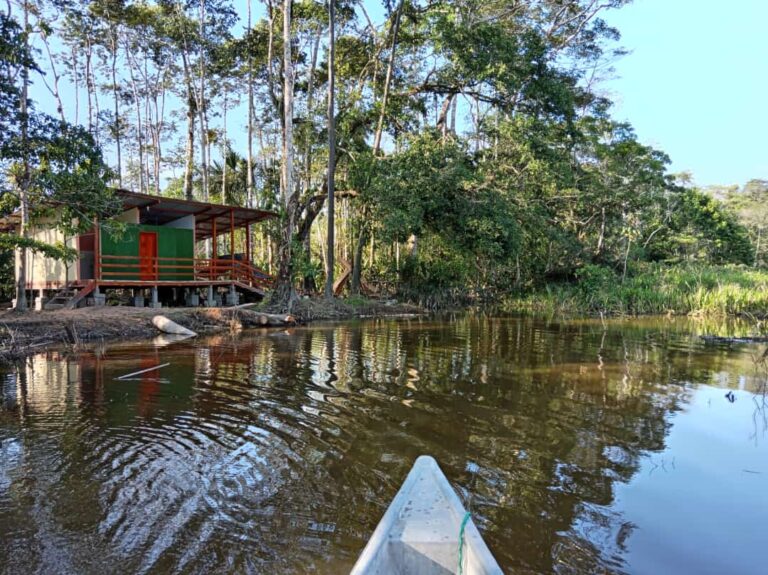 "Awaken your senses and unleash your adventurous spirit: Yasuni awaits to dazzle you with its lushness and gift you unforgettable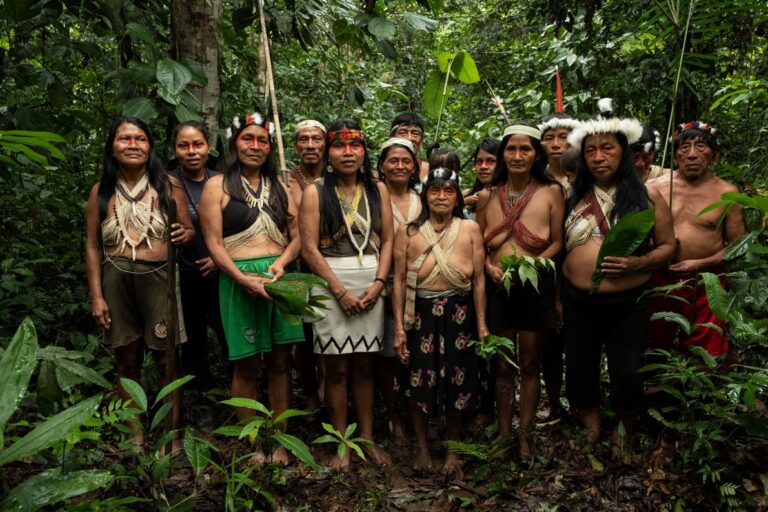 Come and discover the magic that the Waorani have to share with the world! Are you ready to embark on
Got some plans in mind? Share your ideas with us and we will personalize it!
+593 96 180 1463 - shuarcultural@gmail.com